Today's organizations have almost stopped asking "Should or shouldn't we have a go for digital transformation (DX)?". What is for discussion now is rather: "Which approach is the best for our digital transformation solutions?"
As for some businesses, this is not kind of decisions to make annually but rather quarterly or even monthly, CEOs find themselves on the fence between the famous dilemma of BUILD or BUY.
Unfortunately, there has never been one-size-fit-all answer to this, especially for business cases in Vietnam and akin countries where DX landscape is relatively nascent with typical attributes such as limited user readiness, cloud readiness or non-standardized operational processes, just to name a few.
As we cannot remember how many times we saw our clients, partners and friends struggle in that classic dilemma, we decide to put together what we've learned from continuous observations as well as from our first-hand experience with a number of DX projects in Vietnam and Japan.
In this article, we are going to give you some of the most significant insights into the following questions:
What are the well-known pros and cons of each option - Buy and Build?
What are the two sides of the coin within each argument?
Why haven't SaaS been popular in Vietnam like it is globally?
Thus, what should you take into consideration in order to tailoring your own digital transformation solutions?
Let's get started!
1. What they say: "SaaS is the future"
It sounds a bit overexcited but people saying this indeed have clues.
Globally, Software as a service (SaaS) is gaining popularity more than ever. According to Statista, the upward trend is illustrated by the fact that organizations worldwide have increased their use of 8 SaaS applications in 2015 to 80 applications in 2020. Notably, SaaS applications make up 70% of these companies' total software usage in 2020, and it is predicted that this figure will reach 85% by 2025.
Most well-known reasons for such a huge success of SaaS are lower upfront costs, shorter time-to-value, proven best practices and integration support from vendors.
Stats in Vietnam market tell a different story though, that only 5-7% of Vietnamese companies adopt SaaS.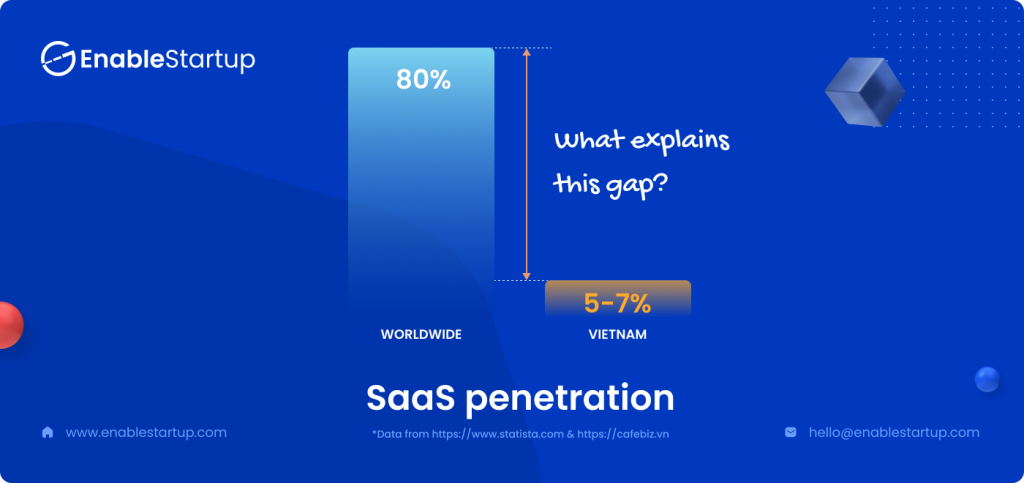 People often associate this phenomenon with the resistance to change. However, according to our actual experience, we'd like to make it clear that such resistance unnecessarily comes from the decision makers, but in many cases from their employees who are end-users of the systems. In other words, it is the question of User Readiness.
This situation is understandable given the fact that the majority of existing SaaS solutions are designed based on common operating models, work flow practices and global standards of international or foreign firms. Therefore, Asian employees in their newly emerging markets often find it hard to have sufficient digital literacy levels to meet the entry requirements of these imported solutions. Or sometimes they simply don't share the same sense and behaviors with what these systems assume. Meanwhile, the Vietnam native SaaS startups are currently few in number and on the way to achieve their product-market fit.
Apart from that, at the end of C-level people, Cloud Readiness, including data security concerns when implementing Saas solutions are usually raised. To date, it seems that Vietnam has little to no unified act for data protection from unexpected access by third parties. As well, in terms of cybersecurity, the country ranked 50th in the Global Security Index 2018, implying considerable lags comparing to many other markets. All these factors may help explain a decreasing tendency in Vietnam's cloud readiness index, which keeps going down from 47.9 in 2014 to 43.9 in 2016 and 41.1/100 in 2018.
2. What they say: "SaaS offers attractive perks of network effect and integration support"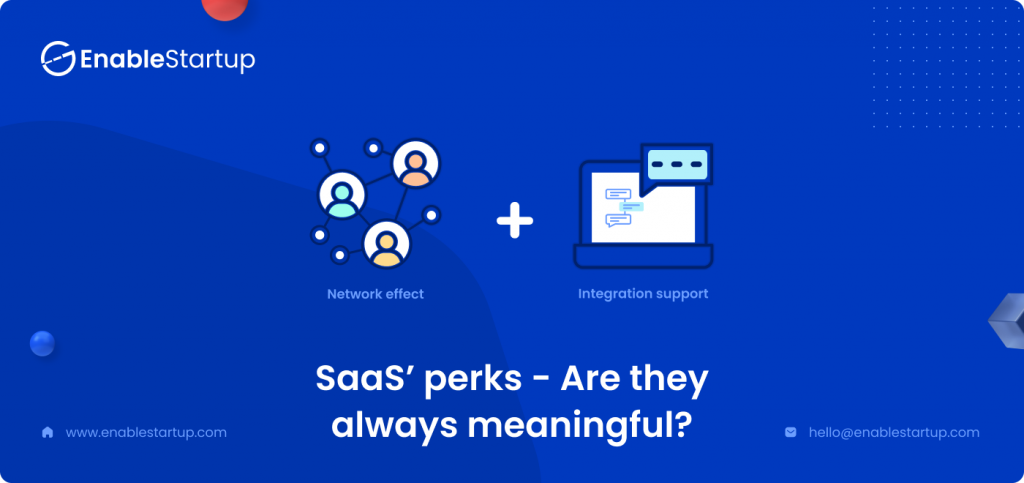 SaaS vendors, especially large-scale ones, usually have strong partnerships across various verticals, probably including third party systems that your business is currently implementing. This merit allows them to provide their clients with smooth integrations, thus saving your time and efforts.
Also, SaaS products are made to serve a wide range of companies. This means once you buy it, you can rely on not only the vendor's expertise but also from other users' feedback, reported problems, insights and other tested-and-tried know-hows.
But remember, available network of users and vendors are meaningful only when they are close to you

!
In other word, these perks are really perks only if those fellow users are similar to you, in terms of digital literacy, operational process, etc. For instance, if you are a Vietnamese SME, you are considering a SaaS whose existing clients are mostly Europe-based with business sizes 5x larger than you. Then there's little chance that you would benefit anything from their effect network.
Likewise, supported integrations are only valuable when the 3rd-party systems they partners with are those you are using or plan to use. Since most of companies in Vietnam, especially long-established ones, do not share much common in tech ecosystem with foreign companies, they don't find these assets attractive.
3. What they say: "Building digital solutions in-house means on-demand customization, full control and unique competitive edge"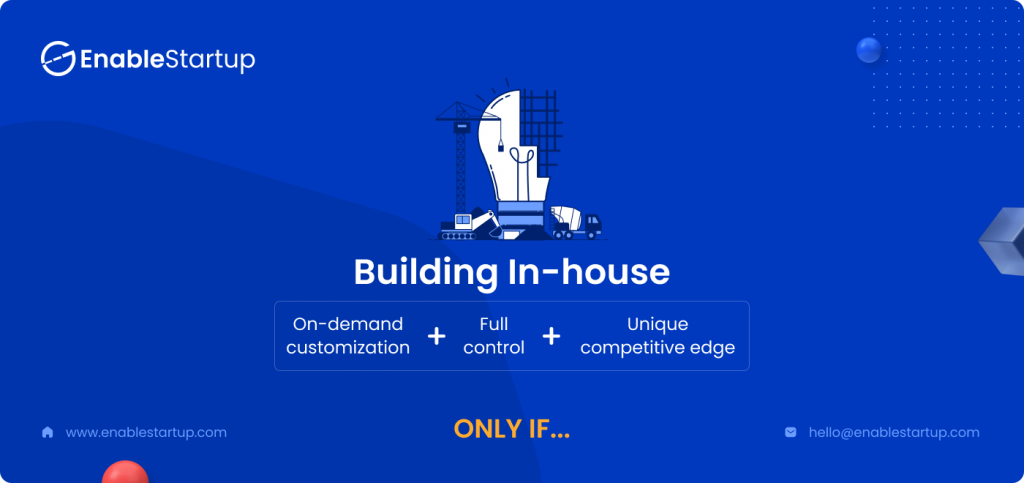 In the bright side, these custom digital transformation solutions would fulfill you with all features that fit and smoothly adapt to the exact operating model of your business. It enables your employees to quickly become familiar with the software, as this digital option is built specifically for them, catered to their needs and behaviors.
Possessing your own custom software solutions is thus believed to make your own business unique, compared to other rival firms in the market. In fact, to have optimal software as your company's core competency is the way to differentiate your models among others and gain a competitive advantage to grow faster.
Unique digital transformation solutions also distinguish business leaders' visions. Game-changing leaders are often those who are capable of foreseeing opportunities and taking risks to invest in high-level custom software that directly or indirectly makes up their market competitive edge.
"But wait, how should we customize our digital transformation solutions? We are completely newbies in this game!"
Yes, that's the point. The ideal scenarios above would happen only if you have sufficient DX competencies in house. In the case of many companies in Vietnam and Asia that we have worked with, what they found challenging was not about the budget but available DX know-hows. Obviously they know their current workflows better than anyone else, but they are often not sure how it should look like when made digital. In that sense, they want customizations, but they cannot do it on their own. Besides, attempts to building tech in-house without experience often fall into the trap of underestimating time and money needed.
All risks considered, what they look to SaaS vendors or external development teams are proven expertise and know-hows to guide them in decision making.
In addition, too much control from decision makers sometimes backfires.
As we observed, in-house development teams often encounter situations where they have less to no control or push-back ability against the "scope creep", e.g. when receiving "on-fire" requests for additional features from upper managers or Head of IT. Such hierarchy of authority sometimes hurts productivity and also hinders worthwhile innovations.
So,

where should we go?
Again, no one-size-fit-all answer ever exists!
However, we suggest you to firstly ask yourself two questions:
Are there any viable off-the-shelf digital transformation solution that exists from a reputable vendor, which is relevant to your technology needs and the nature of your business in terms of region, industry, business size, etc.?
Do you have in-house development resources available to build and support the solution in need?
Once you have determined Yes/No answers to those questions, then try to apply this matrix: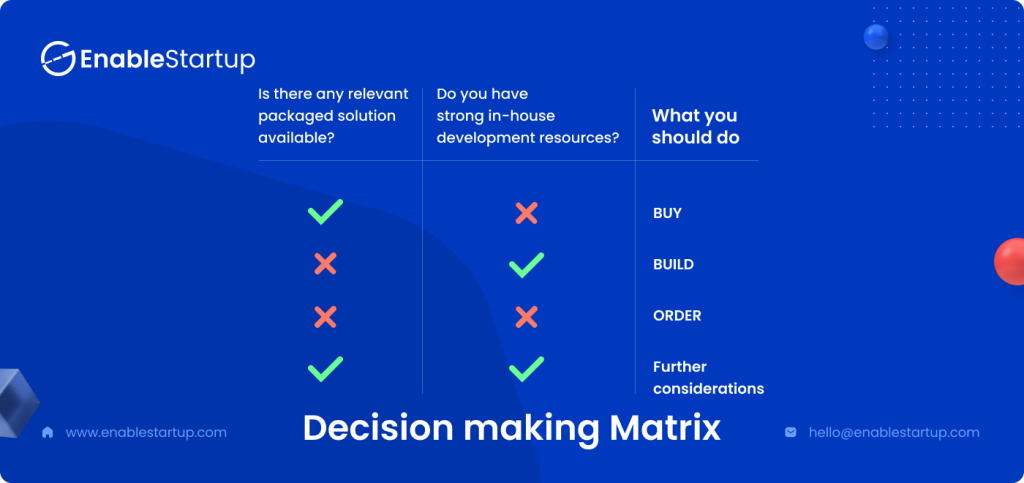 The decision making seems to be straightforward in the first 2 cases.
For the last situation, more freedom to choose might mean better opportunities to have outstanding solutions.
How about the 3rd scenario?
This is when "no option" turns out to be optimal outcomes.
Hiring a tech partner to build tailor-made solutions for your business has its own charisma.
Without any pre-built design and feature list, this option doesn't make it hard for you with neither the customization question nor the hidden costs of un/under-used features.
Talking about autonomy, these external teams are not under the same level of authority power from the client side like an in-house team. This means more capability of giving objective advice and innovative solutions.
Noticeably, many independent development teams offer rich system integration capabilities, thank to their intensive investment in R&D and their resources from other projects.
Final thoughts
Digital Transformation is relatively new in Vietnam and is subject to a lot of evolutions in upcoming years.
It's risky to apply trends and practices from global markets to businesses in Vietnam and akin countries, since we are much different in decisive factors.
Decision making in DX should carefully take into account available resources, short and long term projections.
Make-or-break relies a lot on the tech people you work with, either they are your in-house team, 3rd party vendor or independent development team.
Last but not least, we only have to choose between "Build or Buy" when considering one specific piece of tech to add. For different systems in the business as a whole, we can definitely Build AND Buy at the same time.

Let's get in touch at [email protected] if you are interested in DX or any other tech topics.
We at Enable Startup have a lot of exciting lessons learned, yet-to-be-answered questions and hopefully, advice for your next digital projects!