An atypical End-of-Internship Report from Khue Nguyen - our beloved Marketing Intern.
How, Where & When?
"What do people often do during their gap year before going to college?"
Probably traveling, learning something new, or spending time for themselves and their family. Most of my gap year was exactly the same, but the end of it was a bit more interesting and exploring when I was lucky to have my very first internship ever.
Normally, companies in Vietnam are not so keen on recruiting interns with no college background so I was struggling a lot when first having the idea of applying for an internship. The opportunity came to me after a while; a referral offer from a friend helped me make it to the interview round. That was how I got my very first position at an amazing tech company named Enable Startup, though it would have been more amazing if I was able to work on-site without any time zone difference when I moved to the US for college.
Why?
So, you are probably thinking about the reason why I chose to be a marketing intern instead of something else, especially if you know I am a Business Finance major? The simple answer is because I was in the period of taking any opportunities given to me to further explore myself, and marketing was also one of my favorite parts of business management in general.
What have I accomplished during the internship?
As a content marketing intern, the typical tasks in my day-to-day work are performing market research and applying that knowledge in writing insightful blog articles to help boost a higher reach of my company website and media. These tasks seemed to be just as simple to me when I first read their description, but it turned out that it requires more than a good level of research and writing. You need to not only know the topic really well but also to take into consideration the behavior of your diverse target readers in order to keep them staying on the website instead of bouncing out.
To be honest, my attempt to write the first blog was not so successful, also because it was my first time writing about technology, an area where I was not so familiar with even though I was backed up with a lot of resources from the company.
Nevertheless, there is always room to learn and to improve, especially when I had so much genuine support and instruction from my mentor. She actually took the time to go over my blog word by word and gave really detailed feedback, which impressed me a lot because a fresh intern like me was so worried about hierarchy and afraid that she would be strict about my work. Along with that, she did not mind staying up really late or working really early in the morning on weekends at all to help me with training sessions about SEO and content marketing in general. I was able to progress more in the work thanks to her help and support and feel a lot more confident about content marketing, but of course, there is still a lot of room to further enhance this skill.
Check out some of my blog articles on the topics of Technology Build vs. Buy, Digital Readiness and Green technology (and feel free to tell me what you think :D)!
What have I learnt?
Apart from the main responsibilities of the content marketing position, I was also allowed to try out a variety of different tasks to explore even more. The opportunity to take part in the real projects of the company is not so popular among internship positions, but it was given to me when I was able to be in charge of some work from the beginning to the end. My mentor encouraged me to work with senior employees across divisions so that I can not only learn more about the real process and workflows inside the organization but also to better connect with other people in the team.
Some of the work that I am most proud of is contributing ideas for a more optimal career page and doing research about NFT for the company's projects because these tasks did significantly open my eyes to a whole lot of new things that later turned out to be my favorite topic.
Who have I
connected

with?

I also have to mention that I finished the second half of my internship period when I already started college, so I had to handle the internship work at the same time as schoolwork.

I was so grateful that knowing this, my mentor was so considerate and thoughtful when she always assigned tasks for me with time flexibility and tried to make sure that I have a good work-life balance. I was a bit surprised when she actually asked me if I am comfortable with the workload and always offered great support along the way. This amazing working style is the thing that I was not prepared for when I first received the position, as I thought working would definitely stress me out with no to less flexibility.

Apart from that, the process of working with other senior employees was equally pleasant for me when they showed their genuine friendliness in their ways of talking, giving feedback even though I am the youngest member of the company.

On a more personal note, I still remember being so stressed out about my trip to the states amidst the pandemic, but all these lovely people at work made me feel so touched when they actually cared and sent me wishes for a safe journey.
The end?
Wrapping up my 3-month internship at Enable Startup, I honestly don't want to just stop working with these amazing individuals like that, and wish that I would have put more effort into socializing and connecting with more people in the company. The hands-on experience that I have learned from my work already proves its helpfulness in my studies as a business major, but the soft skills I have acquired when experiencing a real-life working environment are indeed so valuable.
I feel so much more confident and proud when talking about my experience as a marketing intern because I have progressed quite a lot both intellectually and socially since the very first day of the work.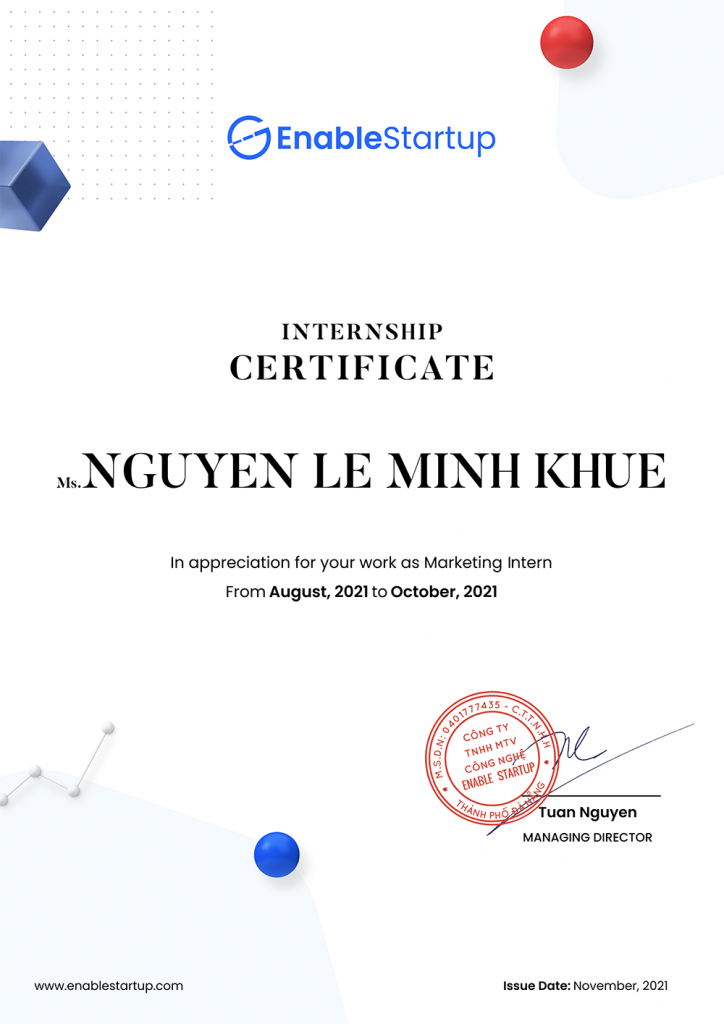 Enable Startup's door is always open to young and eager-to-learn talents (who may not have known they are talented!). Don't hesitate to visit our Career Page or just drop us an email at [email protected]. We can't wait to see you!